Katie the Special Reining Horse
Katie is a 2003 paint filly, approx 15HH, who is currently being trained to be a Reining Horse. Her registered name is "Gun Packin Katie". She was sired by "Gunner" (Colonels Smokinggun) and her Dam is "Crying in the Rain".
She is owned by Tim and Lisa Stanton and was born on their farm in Pickering. Considered a Chestnut Paint, her loan brown spot is 4 inches in size between her ears and the rest of her body is white. The first special thing you notice about Katie is her big beautiful bright blue eyes.
Coming in a close second is her sweet, gentle affectionate and friendly personality, a real sweetheart. Her owners are proud of her style, conformation and unique look but another special characteristic is that she is totally deaf. It doesn't seem to bother Katie at all most likely because she was born deaf and doesn't know she is short one sense. Her condition was obvious right away at birth because she just didn't respond to any noise at all. Despite this disadvantage, she is still trained to be a Reining Horse using the same techniques as the other StoneRidge horses.
However, she really watches for cues and picks up on the Trainers body language rather than their voices. She shows a remarkable willingness to learn the same skills, just in a little different way. Katie was bred and raised to be a Reining Horse and after seventeen months of training, Tim and Lisa look foreword to this fall when Katie will compete in the futurities with Tim. Be sure to watch for them.
Article reprinted from the Rider by Kelly Bowers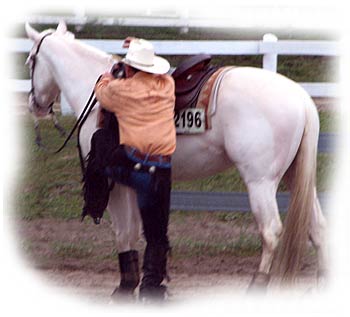 Update August 2006 - "Gun Packin Katie" and Tim Stanton - 3rd at the Pickering Reining Show and
tied for 4th at the Sired Stakes Futurity